A window into the past – Will of a 17th century lady
One of the most enjoyable aspects of my work transcribing old documents, and in particular wills, is the variety that are encountered;  variety of script certainly, but also variety of style.  Sometimes when working on a will I get a picture in my head of the person behind it.  There are some that remind me strongly of Sir Walter Elliott in Jane Austen's Persuasion, a man very full of his own importance.  The flowery hyperbole and inordinate length of their wills flatter the pretensions of what sometimes appears to me to be a small mind.  I have to wonder too whether they are being duped by lawyers or clerks paid on a per word basis.  Others are brief, terse and matter of fact, either with little to be bequeathed or the bequests dealt with efficiently.  And then there are the occasional gems, the wills that open the door and invite you in with descriptions of objects, and sometimes even of the rooms in which they are to be found.
We recently worked on one such gem, from the fourth year of the reign of James 1st (1606).  This was the will of a maiden aunt with no land or buildings to bequeath, but a lady who took care in the bestowal of her money and personal effects.  Through her will I felt Frances beckoning me from her sick bed.
Frances was a spinster, 'sicke in bodie but of good and perfect remembrance' .  There is no indication of her age, or her ailment, but the will was not proved until two and a half years after she wrote it.  I wonder did she linger in illness for those years, or did she recover from whatever illness troubled her and succumb to a second illness later?  Whatever the case she would have been aware of the uncertainties of life and the need to set her house in order and have her wishes noted down in good time.
She begins by making a contribution to the poor of the parish, half now, half on Christmas Day, and a generous sum to the vicar for his sermon at her funeral;  no doubt he had was equally kind to her when called upon to deliver his sermon.   She also makes provision for a donation towards the costs of repairing the old stone bridge and the house on top of it, a good citizen of her community helping with the burden of keeping communal assets in good condition.
Then as a devoted aunt she turns her thoughts to her nephews, two  specified as minors for whom the money is to be 'put out' by their respective fathers 'for him to the best use during his minority'.  The third nephew's portion is to be kept for him for when he 'comes out of his yeares of Apprentiship.'   Her niece is also remembered, though with a much smaller bequest, but still 10 shillings 'for her own use' will have been very welcome to a young girl in those days I imagine.
Her brothers each get 10 shillings with which to have made a ring by which to remember her.  The practice of bequeathing a ring for remembrance was known from the Middle Ages, and by the seventeenth century it had become customary to engrave rings with the name and the dates of the deceased, with the decorative design on a ground of black enamel. People would leave instructions in their wills for specific sums of money to be used by the executors to buy rings, and the recipients would be named.
© Trustees of the British Museum
example of a mourning ring from the collection of the British Museum
What makes Frances so special is the detail she gives of the items she bequeaths to her sisters/sisters in law.  We can stand by her bedside where she is sitting in her bed, propped up against the bolsters peering myopically around the room while she looks at her possessions and decides which member of her family should have them.
"Let's start with my sister in law Mary.  She is to have two smocks, two bands, one black coif wrought with rosemary stitch, one petticoat (that one there with the three white laces) and the gown that I used of late to wear on a Sunday.  Oh she'd better have the kirtle which is worn with that gown too.
Now then for Elizabeth, oh yes, she shall have 10 shillings to have a ring made, but she can have the new petticoat that's being made at the moment at the tailor's, and the best smock, six night 'Rayles', the blackwork stomacher and the gloves that were a present to me from my dear friend.
Mary my sister, she too shall have 10 shillings for a ring, and she shall have the new gown that is being made at the tailor's and the black coif wrought with pearl stitch."
So let's see what these articles might have looked like….
smock – also called a shift.  This innermost layer of clothing, worn by all women of all classes, was a basic undergarment worn to protect outer clothing from sweat and body oils.
some are cut close to the body with a low, square neck and close-fitting, ungathered sleeves.  Others have puffy sleeves gathered to cuffs and a body gathered to a close-fitting neckband.
kirtle – one piece underdress
bands – ???
coif – A coif is a close fitting cap that covers the top, back, and sides of the head.  They were often beautifully ornamented with embroidery.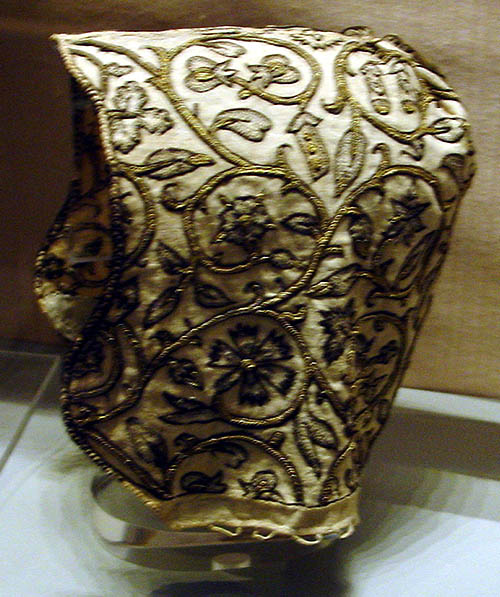 http://www.elizabethancostume.net/headwear/coifpics.html
In Frances' case she had two to give to her sisters, one worked in rosemary stitch and the other with pearl stitch.
<—< examples of rosemary stitch
petticoat – The word "petticoat" was a very all-encompassing term during Elizabethan times. It could signify an underskirt worn for warmth, for decorative purposes, to add bulk underneath the kirtle or outer skirts, or all three.  In the earlier 16th century it also referred to a type of jacket worn by men (and women) for warmth, adding to the confusion.
Petticoats became more popular during the 1580s and 1590s.  During Tudor & early Elizabethan times, the kirtle –an underdress with a flaring skirt– served the same purpose as a petticoat, but as skirts became wider and more gathered at the top, gathered petticoats were more often worn.
night rayle – The equivalent to the modern night gown
stomacher – A decorated triangular panel that fills in the front opening of a woman's gown or bodice.  The stomacher may be boned, as part of a corset, or may cover the triangular front of a corset.  If simply decorative, the stomacher lies over the triangular front panel of the stays, being either stitched or pinned into place, or held in place by the lacings of the gown's bodice.
Nicholas Hilliard's Unknow Woman wears a cutwork cartwheel ruff.
Her stomacher and wired heart-shaped coif are decorated with blackwork embroidery, 1585–90
 English woman wears a fashion seen in many formal portraits of Puritan women in the 1590s, characterized by a black gown worn with a blackwork stomacher and a small French farthingale or half-roll, with a fine linen ruff and moderate use of lace and other trim.  She wears a tall black hat called a capotain over a sheer linen cap and simple jewelry.
Blackwork embroidery is a very old form of counted-thread embroidery.  Because many of the designs are geometric it is most often stitched on an even-weave fabric.  Despite the name "Blackwork" it was also done in blue, green, gold or silver.  Linen or cotton was the primary fabrics since the original purpose of Blackwork was for costume adornment.
By the time of her death Frances' new gown and petticoat 'at the Taylors' would have had some wear, and perhaps she was no longer wont to wear that gown of a Sunday, but we leave her now with thanks for the detail she gave us and for opening a window into the past.
For anyone interested in looking further at clothing of the period I found these two websites well presented and useful.
http://www.tudorlinks.com/textiles.html
http://www.elizabethancostume.net/bath/index.html
© Linda Watson 2011